Here's a picture of My Driver (Spc Byrne) and me (SSG Cornelius).
Brave Rifles!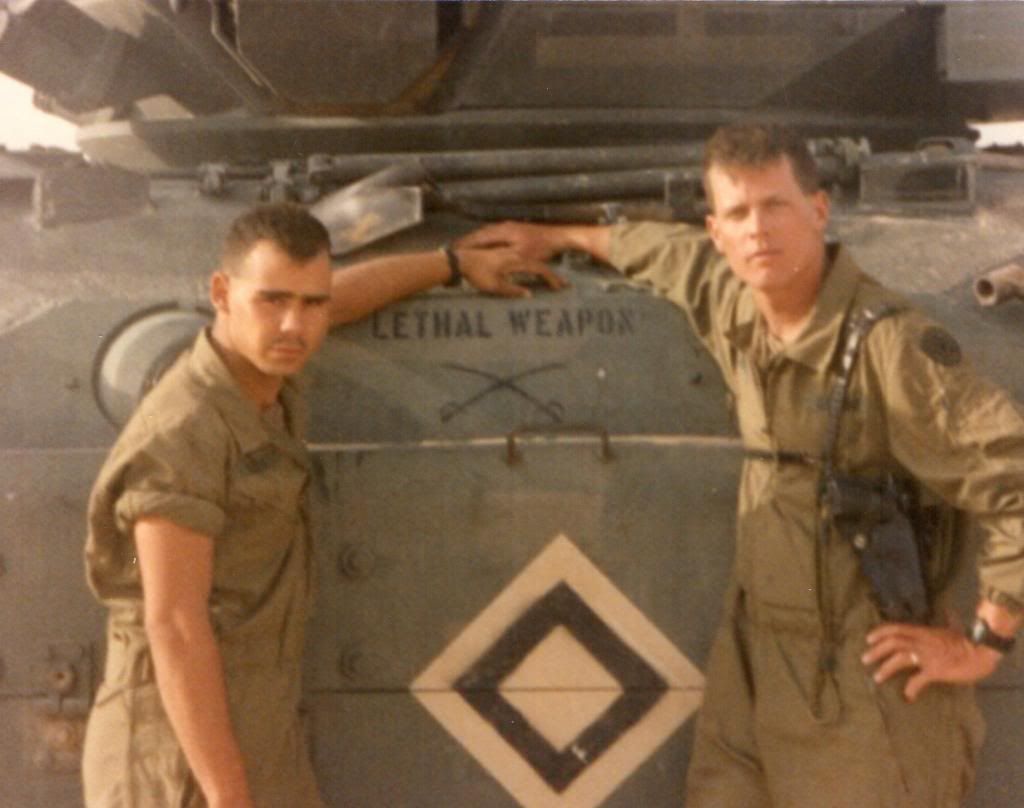 2/64 Armor Scout Plt Schweinfurt, Germany 81-89
L Troop 3/3 Acr Ft Bliss, Tx 89-93
HHC 3/73 Ar Ft Bragg, N.C 93-94
HHT 5/16 Cav Ft Knox, Ky 94-98
L Troop 3/3 Acr Ft Carson, Co 98-2001
Retired
Soldier
Posts: 80
Joined: Sun Aug 22, 2010 9:53 pm
Your Gulf War Unit: D co 4th BN 66th Armor 3rd ID
Cool pic..
Sgt Cary W. Snyder
D 6th Training BN Fort Sill OK. 9/83-2/84
D btry 2-61 ADA Camp Staton Korea 2/84-3/85
C Company 2/47 Inf Fort Lewis WA. 3/85-8/86
HHC 2/72 Armor Camp Casey Korea 8/86-8/87
A Company 9th Cav. Fort Knox KY. 8/87-7/89
HHC 4/66 Armor 3rd ID Ready Kaserne Germany 8/89-5/92
D Company 4/66 Armor Desert Storm 12/90-5/91
A Company 2/187 INF Fort Campbell KY. 5/92-2/94
Once a Soldier Always a Soldier!!!!!!!!!!
Recruit
Posts: 1
Joined: Mon Jan 27, 2014 1:29 pm
Your Gulf War Unit: L Troop 3/3 ACR
Location: Texas
I remember you both Cornelius. We had a good unit.
L Troop 3/3 ACR - Mortar SSG (Feb 1989 - Apr 1993) - Desert Storm
A Troop 1/3 ACR - Border Operator (Feb 1987 - Feb 1989)
Basic & AIT - Harmony Church, Ft. Benning, Ga. 11C (Oct 1986 - Feb 1987)