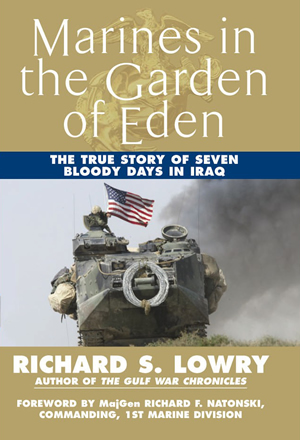 Marines in the Garden of Eden: The Battle for An Nasiriyah
by Richard Lowry
Click here to purchase this book from Amazon.com and support Desert-Storm.com
In his second work, Richard Lowry has taken up the task of recounting the Battle for An Nasiriyah. This work is the result of a few years of exhaustive research and interviews and the end result is an in depth account of a few days of frenzied US Marine warfighting.
One of the best aspects of this work is that it is primarily based upon the way the soldiers themselves described the events. This is not merely another high-level, abstract review of a battle. This is a down and dirty, on the ground account of one of the fiercest battles in recent memory.
Richard painstakingly recounts the Marine's struggle to take the Iraqi city of An Nasiriyah and rescue the ambushed soldiers of the 507th Maintenance Company while dealing with a determined enemy and the fog of war. While doing so, he is able to keep the reader completley engrossed by focusing on the human side of war and spotlighting the courage and dedication that are the calling cards of our troops.
About the only thing lacking, and this is hardly a real problem with the work, is that the reader is left wishing that there were even more photos. Given the amazing level of cooperation by the interviewed soldiers, one wishes that it would've been possible to secure a larger sample of their personal photography from the warzone. Again, this is not really a criticism of the work, but rather a sign of the times. In today's world with access to so much information and any second, it is easy to be spoiled.
As with his first work,
The Gulf War Chronicles
, I highly recommend this book to anyone that desires to read a painstakingly researched and well compiled work detailing some of our troops most courageous fighting. Richard packages all this research in his signature style..just enough wrapping to keep you engrossed.
Author Richard Lowry is a member of the Desert-Storm.com Community forums and has agreed to answer any relevant questions posted here in this thread. Please feel free to share your comments as well as questions.